Cette page n'est pas disponible en français. Veuillez-nous en excuser.
ABIS Infor - 2016-02
A New Home for ABIS Leuven
Abstract
In November, after a 3-year stay at Diestsevest 14, ABIS Leuven moved to a new but familiar place: our old address at Diestsevest 32. The building was thoroughly renovated and got a brand new interior.
A green building...
In 2012 the owner of our old building started with the renovation and extension of the complex. ABIS moved temporarily to a building next door. The design, made by AR-TE architects, draws from sustainable principles. The facades were insulated and equipped with energy-efficient glazing. The technical installations were carefully thought through, with as their most prominent feature a so-called Borehole Thermal Energy Storage (BTES) system, which makes it possible to store summer warmth and winter coolness underground for later use in the heating and cooling of the building.
A note for the experts: all these measures result in a global energy score (E-level) of 47, a very good score for a renovation of an office building.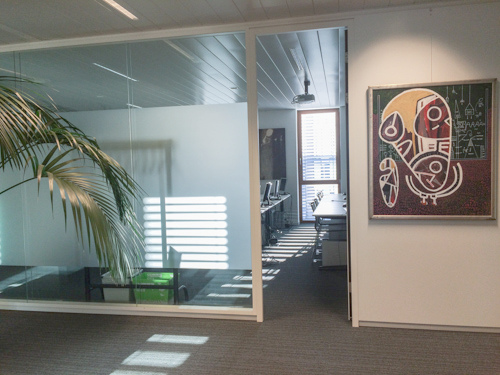 ...with a tailor-made modern interior
The renovated complex was finished in spring 2015, and in summer ABIS signed a lease for the fourth floor. Together with the owner we worked out the designs for the interior, comprising three classrooms, office space for our staff and a break area. Even though the new location is smaller than the previous one, it by no means feels cramped. The plan is kept open, with as few corridors as possible. Translucent walls keep the space light and airy. The new furniture: stylishly modern and comfortable.
After a quick building rush in October and November the work on the interior was finished and we moved on 26 November. We needed some time to get used to the open and flexible office space, and the new telephone exchange also needed a day to get to cruising speed, but by now we totally feel at home and our servers are purring happily as ever.
By the way, we are not forgetting our Woerden branch. In 2015 some of the communal spaces got brushed up and this spring the owner is planning an update of the toilets and kitchens. We replaced part of the furniture and alterations to the lounge area are on their way.
As you can see: ABIS makes the effort to welcome you in optimal conditions!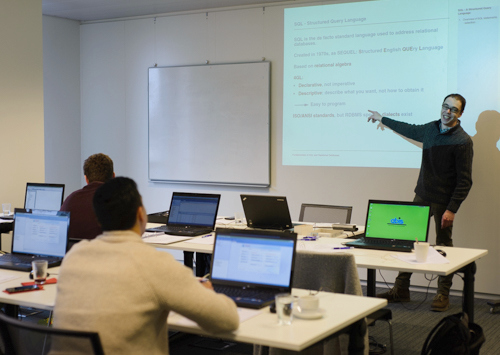 In need for training facilities?
Did you know we also rent out our training facilities in Leuven? We have three classrooms of different sizes available, with or without computers. In the centre of Leuven, near the station. Contact us for information: training@abis.be.